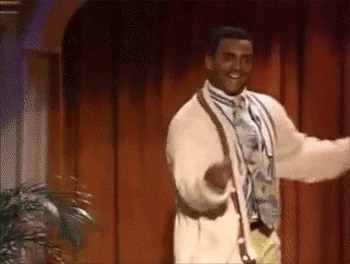 What was the first thing you noticed on this page?  If you're like us, it's the guy dancing to the right…  Video is captivating.  It sends a message.  It's effective.  Whether you're a new company looking to gain new customers or an established brand wanting to revamp business, video marketing is one of the most effective tools to get you there.  Still not sure?  Here are six signs that video may be right for you.
1. You want more people to visit your website. 
We already know that people love video.  In fact, just having the word "video" in an email subject line increases open rates by 19% and click through rates by 65% (Invodo, 2014).  Video makes it more likely that people will navigate to your website – and stay there to learn more.
And now we know that search engines love video too!  Videos are eye-catching and, as we know, encourage more clicks.  Search engines like Google want to make sure that relevant content that engages and keeps people's attention – what videos do – is at the top of search results.  Thus, pages with video are 53x more likely to rank on the first page of a Google search (Entrepreneur, 2014).  How often have you found yourself clicking to page 2?  Exactly…  Video helps Google rank your website higher.
2. Getting web visitors is cool and all, but you need to convert customers!  
It's been said that a one minute video is worth 1.8 million words (Forrester Research).  Regardless, it is clear that video helps explain and demonstrate product like no picture or description can.
If you're trying to convince customers to make a purchase from your website, adding a product video can be just the incentive they need to buy.  Seventy-three percent of people have said that they've bought from a company after watching one of their videos.  That's no small number.   Additionally, a video that explains who you are can are can help your customers relate to you and build your credibility, which ultimately results in better conversion rates as well.
3. You want to raise awareness.
But what if you're not trying to "sell" a product?  One of the best tools for video is to increase awareness – for a brand, product or even a cause.  People connect with video – and more and more are sharing video content online. Across the board, we're seeing social networks jump on the video bandwagon – Facebook, Instagram, Twitter, Vimeo, YouTube, Snapchat (the list goes on and on).  Video increases the opportunity to be seen among these networks – and to encourage sharing that helps you reach new audiences like never before.
4.  You're always answering questions like "wait…how does it work?" or, "what do you do?"
How many times have you just skimmed assembly instructions only to realize you put the product together backwards and upside down?  Sometimes, people just need a human voice explaining how something works to really understand.  Or, better yet, to be told while also being shown.  Cue video.
With video, people are able to more easily digest content, and retain and understand information.  Videos increase your viewers' comprehension by 74% (Mayer and Anderson research, Forbes) and make it far more likely that they'll understand who you are and what you're offering than if you had left it to simple text.
5.  You know you're the best, but do people believe you?  Building credibility…
By effectively presenting your brand online, you build credibility.  For all the reasons above, when people see video, they click, engage, learn and understand what you are all about.  And in that connection with your viewers, you establish credibility, not to mention eventually increasing brand loyalty among current customers.  Testimonial videos can be especially powerful, as viewers see and hear real people who are willing to stand behind your business.
6. You still don't even have one video…
And finally, if you don't have any video content yet, it may be time to look into it. Video is rapidly becoming one of the most important tool to reach your customers. And if any of the first five reasons resonated with you, we have some tools that can help! But don't just read about it, check out our video explaining who we are and what we do here:
Virect is the largest marketplace for video production. Find and hire the best video creators – we make it easy to get the best video content for your business, cause or event. You set the budget, choose the length and type of video you want and select your creator. Learn more here.